VATTENFALL WASSERKRAFT GMBH
PUMPED STORAGE PLANT BLEILOCH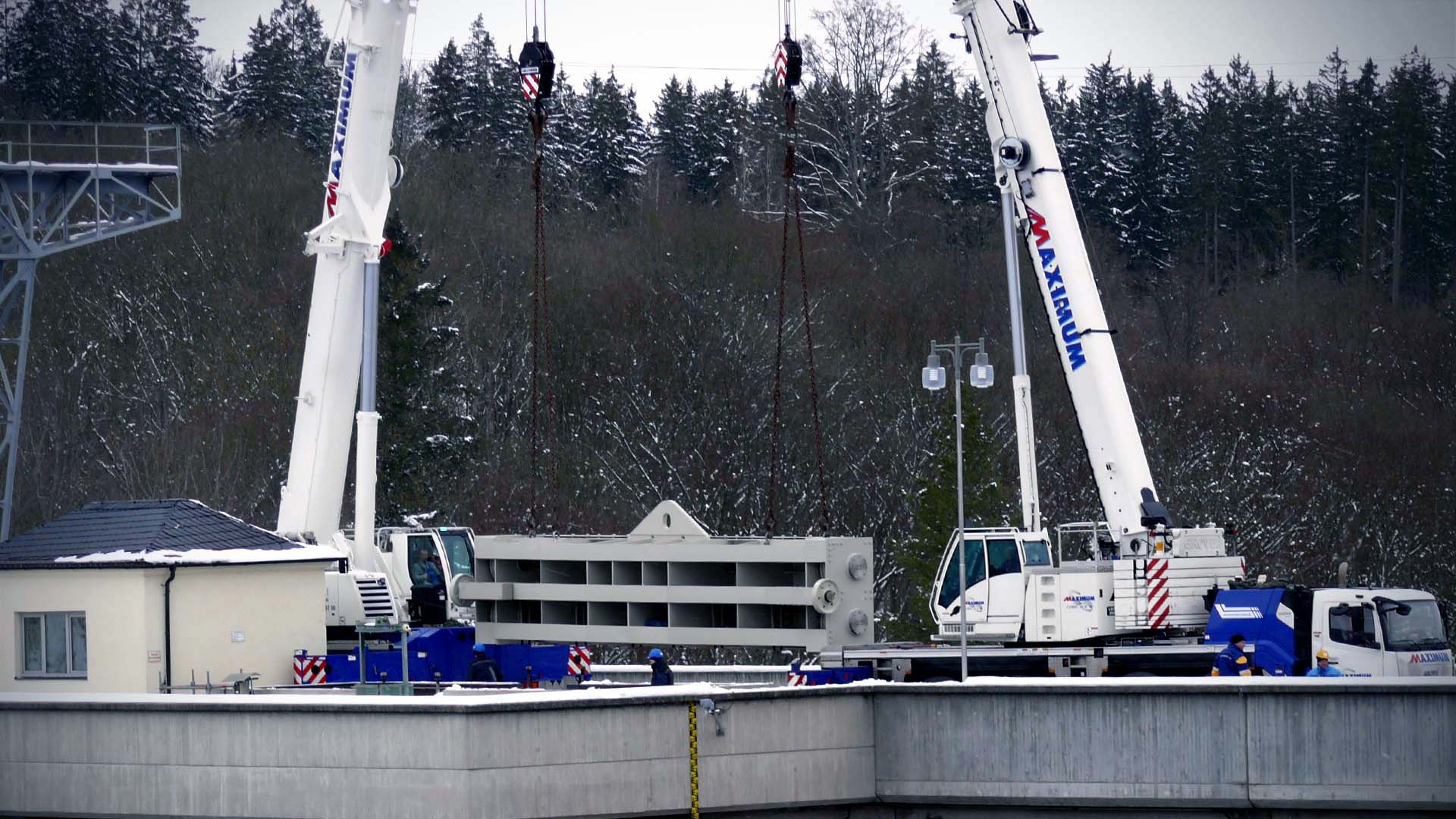 Final spurt on the dam
The icy January wind whistles around the ears of the two MaxiMum crane drivers. For the fourth and last time, it's tandem lift time on the Bleiloch Dam. One of the last two barrier gates has to be replaced after a hundred years. Two cranes (from Liebherr and Grove) bring the 26.5-ton steel segment to its destination with millimeter precision. On behalf of Vattenfall Wasserkraft GmbH, the MAXIKraft Group is performing the highest precision work.
Locking contactors function like a valve. They are mounted on horizontal rails inside the dam. In order to be able to lift this new 125-ton steel gate into its anchorage at all, it was manufactured in four partial segments. Two cranes are required for the necessary balance to lower the load evenly. The steel segment must not tilt in the rails under any circumstances.
Due to the weather, the segments could only be delivered in four individual stages. The work started before Christmas. Now, in snow and ice, the two cranes are slowly lowering the final segment into the rail guide. A sense of proportion and tact are called for.
Preparations have been underway for months. Germany's largest reservoir (215 million cubic meters) was already lowered to minimum level in the fall.Engineers had to calculate the hazard situation with meticulous studies.The site has its pitfalls.
The road, which is only 5.20 m wide, is quite narrow as a parking area for cranes.The supports cannot be fully extended. To the right of the dam wall, there is a drop of 65 meters.
Therefore, a sophisticated system is used. With the help of the Variobase on the Liebherr and the Maxbase on the Grove, the safe slewing range of the cranes can be precisely determined. The on-board computer calculates how far the crane is allowed to slew based on the weight of the load, the counterballast and the extended outriggers. The main supports are placed on precisely determined points. Reinforced by mats and beams, the cranes stand securely.
Then everything goes according to plan: First, the Liebherr main crane is set up on the dam wall. It lifts the segment from the heavy-duty transporter. Then the auxiliary crane from Grove moves into position. Both cranes are attached to the load and the thrill begins. The dispatcher instructs the two crane operators over the radio. Two fitters check inside the dam to make sure that the segment is lifted exactly into place and rests cleanly. Millimeters to go before the segment can be set down... it's done! After several operations, the new dam contactor is firmly anchored.
At the Bleiloch dam, the bulkheads are tight again. Soon the snowmelt will raise the water level. In summer, it will again be possible to splash around extensively. The reservoir is a very popular recreation area for hikers and water sports enthusiasts in the Thuringian Forest.